Smoke & Carbon Monoxide Detector Installation in Sioux City, Iowa
We all want our home to be a haven, a place where we feel comfortable and secure. Some homes have complex security systems to keep out unwanted guests but might be missing devices that can warn a family of silent threats like carbon monoxide and fire.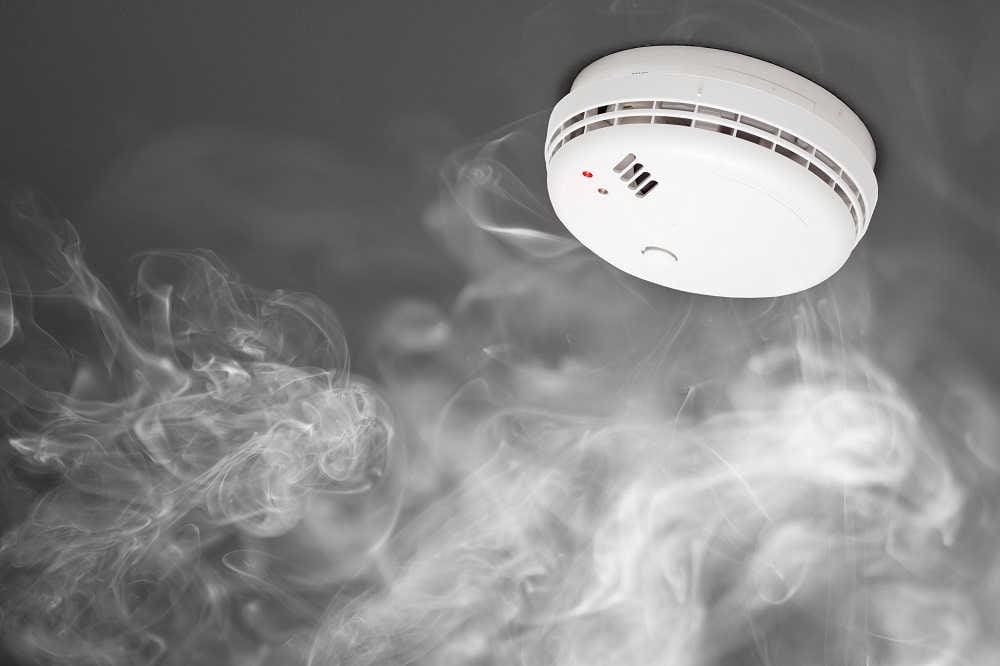 Carbon monoxide poisoning is the second-most common cause of nonmedical poisoning deaths, and household fires caused almost 4,000 deaths and more than $14 billion in damages last year. These sobering numbers have one thing in common: Both could be avoided with carbon monoxide detector installation and smoke detector installation.
Are Carbon Monoxide and Smoke Detectors Required?
According to the National Fire Alarm and Signaling Code, homeowners should have smoke alarms installed inside each bedroom in their home and outside every bedroom on the first floor. However, many homes built before this code was in place might not have the minimum requirement. On the other hand, only 38 states mandate carbon monoxide detector installation in private dwellings.
The facts are clear: Many homeowners are woefully under prepared to protect their homes from fire and carbon monoxide poisoning!
Smoke Detector Installation 
As a family-owned and -operated business in Sioux City, we understand the importance of keeping your family safe within your home. Dave and Dallas Mitchell are master electricians with 50 collective years of experience. The Mitchell Electric team of technicians, highly qualified and trained, are experts in smoke detector installation and carbon monoxide detector installation.
Proper installation of carbon monoxide and smoke detectors includes covering the house with protection from these devices. In addition to sensors within each bedroom in your home, you should have adequate coverage throughout the living spaces. We recommend hardwired models that connect to an electrical circuit. These critical, lifesaving tools can save you the hassle of changing batteries and eliminate the risk of going without power.
When you call Mitchell Electric for smoke detector and carbon monoxide detector installation, you'll be working with trained electricians who can seamlessly integrate your new devices into your existing system. We carry the most advanced smoke detectors and carbon monoxide detectors on the market to give you the best security around.
Our recommendations can keep your family from the dangers of smoke inhalation, fire, and carbon monoxide poisoning.
The Real Dangers of Carbon Monoxide
Carbon monoxide is a silent killer. The gas is colorless, odorless, and tasteless. It is a byproduct of incompletely burned natural gas, kerosene, oil, propane, and other fuel types, which can build up in stagnant or tight spaces. And it doesn't take long for carbon monoxide to build up to dangerous levels.
Because it has no smell and no taste, many people don't know they have been poisoned by carbon monoxide until symptoms have set in. Some of these include:
Headache

Muscle weakness

Dizziness

Shortness of breath

Blurred vision

Loss of consciousness
Although the symptoms may seem mild, it can be a medical emergency. A carbon monoxide detector will alert you of increasing gas before it builds up — this is why carbon monoxide detector installation is such a critical piece of your family's health and safety indoors.
If your home lacks proper carbon monoxide detectors in critical areas, call our family-focused team for a home evaluation.
Protecting Your Family and Home from Fire Damage
Household fires can happen during even the most ordinary activities. From a lit candle to an outdated outlet, it only takes a spark to cause irreparable damage to your home. Smoke detectors are an enormously important tool for avoiding illness, injury, or death associated with household fires. According to some statistics, 75% of deaths caused by a fire in the home happen in homes with inadequate or nonfunctional smoke alarms!
Although smoke detectors don't directly protect you from fire, they give you time to act quickly and leave your home. Smoke travels fast — faster than fire — so early detection is essential to a home fire-escape plan. Our team of master electricians at Mitchell Electric will install the latest smoke detector technology and evaluate your existing electrical system for fire hazards. When safety is on the line, our team doesn't hesitate to tackle the problem.
Mitchell Electric is Your Trusted Electrician in Sioux City
Mitchell Electric has a long history of serving the Sioux City, Iowa community with honest, exceptional work. We stand behind our workmanship and products and offer extended warranties and a 100% satisfaction guarantee. You can trust us to help keep your most precious people and most significant investments safe and secure.
Call us today at (605) 232-5527 or contact us online for more information on our services or to schedule an appointment.