Ceiling Fan Installation in North Sioux City, SD
When you need professional ceiling fan installation here in Sioux City, IA, turn to the team at Mitchell Electric. Our team can deliver reliable, safe ceiling fan installation services that will improve the efficiency of cooling and heating in your home, while accenting your home's aesthetics with a wide array of stylish options.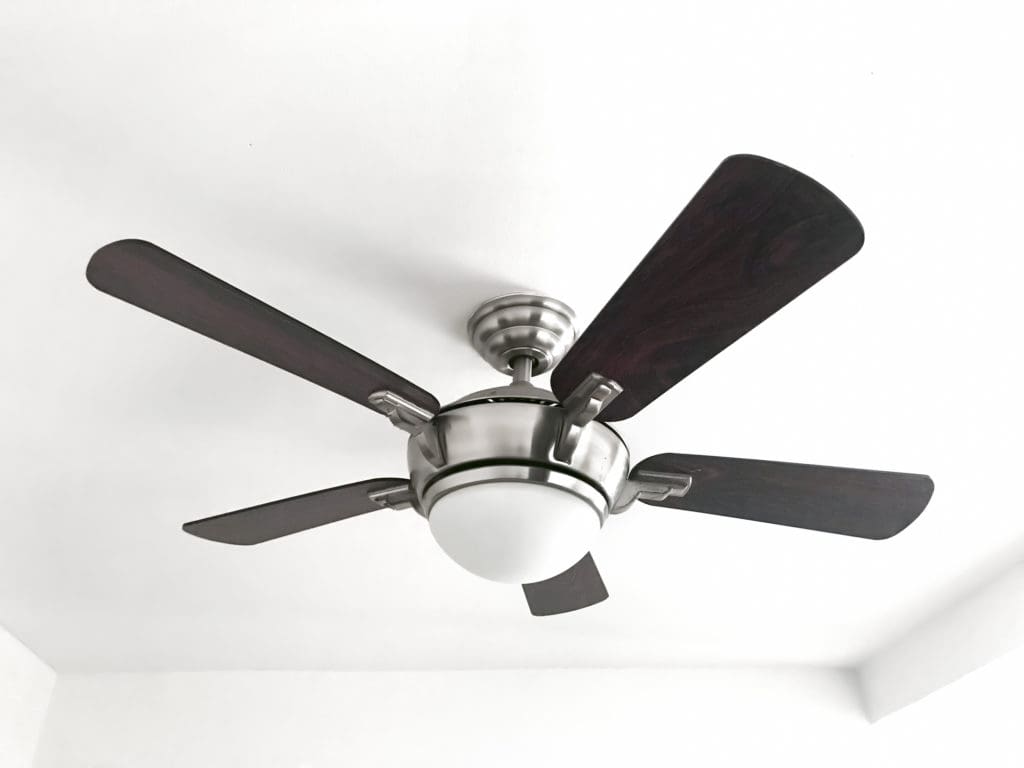 Cool Your Home with a Ceiling Fan Installation
Ceiling fans have long been one of the most efficient ways to control the temperature in your home during hot summers. You can adjust the direction that your fan spins, which can affect the way that the air feels in your home. In summer, you'll need counter-clockwise rotation to provide effective cooling.
Even if your home does have air conditioning, it might not be effectively distributing cool air around your home. This can lead to an uncomfortable imbalance in different areas, which can be easily remedied with a quality ceiling fan. A fan creates a downward draft that spreads air evenly throughout the home and provides a cooling breeze. Much like the way winter winds bring wind chill, a cool breeze makes a home feel cooler than it really is. This allows you to save money on your air conditioning bill because you can set your thermostat at a higher temperature with the same level of comfort.
Our team can evaluate your home's layout and current air conditioning setup to suggest an appropriately sized and configured ceiling fan to achieve the most efficient cooling.
Make Your Home Heating More Efficient
A ceiling fan plays a similar role in making effective use of your heating system during the winter. For the cold months, your fan should be set to clockwise rotation to spread out any warm air that's collecting near the ceiling.
Heated air naturally rises, which presents a problem when you're trying to heat the entirety of your home. To get a comfortable temperature throughout the room, you may end up wasting heat that keeps the space near the ceiling excessively warm.
With a reliable ceiling fan installation, the temperature difference between the floor and the ceiling can be evened out. This means you'll spend less money on heating and get the most out of your heating system. This recirculation effect is quite pronounced if you've got the right size fan. You could save up to 15% off of your heating bills just by getting a quality ceiling fan installation from Mitchell Electric!
The Perfect Ceiling Fan for Your Home
Ceiling fans are stylish fixtures that can be a great addition to your home. There are several options available. Many ceiling fan blades have elaborate inlays or other unique design elements to accent the design. Shades come in various materials and styles, including opal and tinted glass, clear glass, and etched glass. Some even offer remotes!
No matter what kind of ceiling fan you want to put up, once you've found the right fit, the team at Mitchell Electric will make sure that your ceiling fan installation is done right. We'll make sure that every feature of your new fan works perfectly, whether you've chosen a traditional fan or one with a few extra perks!
Optimal Performance for Your Home
Proper installation of a ceiling fan is a highly technical process that has many variables to consider. It's not as simple as picking a nice style. You need a fan that delivers sufficient airflow for your home. In general, larger fans deliver more efficient performance. They can put out the same airflow while spinning at lower speeds, letting you make use of higher torque that reduces the ratio of energy consumption to airflow.
Of course, there's an optimal airflow for each specific room. Our team can determine that based on square footage, ceiling height, and other considerations. If you're searching for trusted ceiling fan installation services, you can count on the professionals at Mitchell Electric to provide efficient, affordable services!
Ceiling Fan Installation from Experienced Electrical Professionals
For any type of electrical installation in your home, your top priorities should be safety and reliability. Our ceiling fan installations deliver in both arenas. The experienced technicians at Mitchell Electric have the knowledge to handle any electrical work safely, while our ceiling fan installations feature reliable parts and quality craftsmanship to ensure durability.
For a quote on your ceiling fan installation cost or for any other electrical needs, reach out to Mitchell Electric today for friendly, fast, and affordable service. Contact us online or call (605) 232-5527 to get started.