Landscape Lighting Installation in Sioux City, IA
Beautiful weather means spending time outdoors with family and friends in the fresh air and bright light. But the fun doesn't have to stop when the sun goes down if your home has outdoor or landscape lighting. Mitchell Electric can help let the good times continue long after dusk with landscape lighting installation services that can make your yard the envy of the neighborhood.
Landscape lighting illuminates your property while also giving your outdoor entertainment area that special touch of comfort and charm. Patio lighting isn't only about aesthetics. A landscape lighting installation can also help keep your property safe and secure. It may also increase your home's value and improve its overall appearance.
Contact us online or give us a call today at (605) 232-5527 for more information on our landscape lighting installation services or to schedule an appointment with one of our skilled electricians.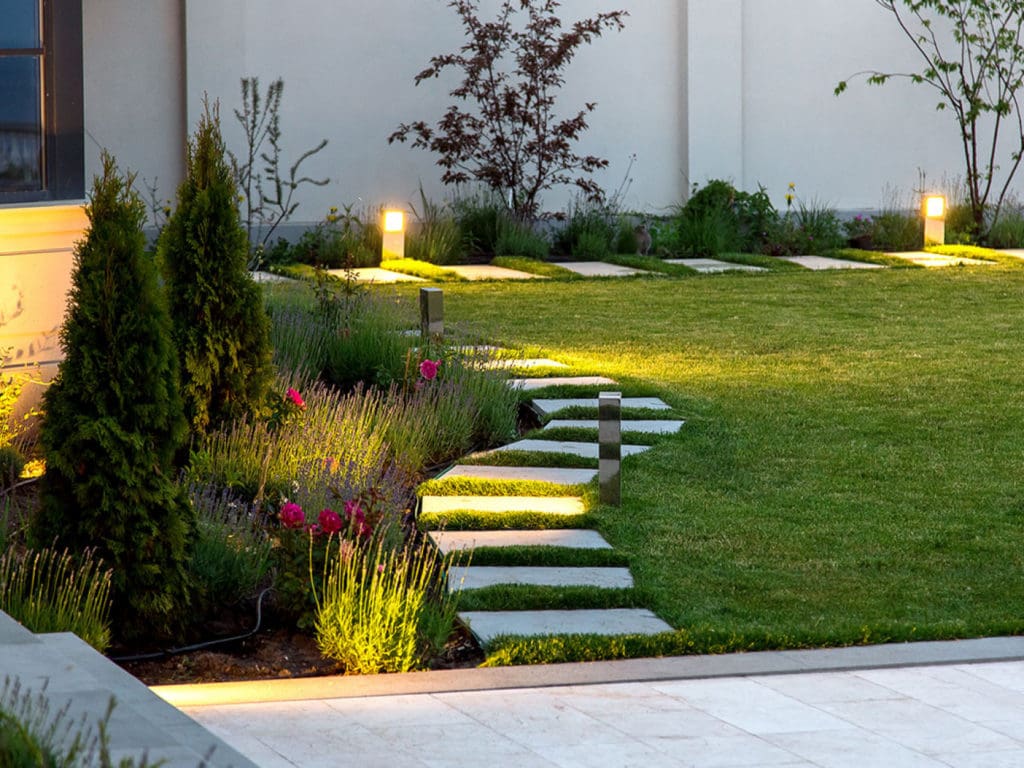 Illuminating Facts About Outdoor Lighting
Outdoor and garden lighting can improve your home and brighten your nights. Whether you're looking for style, substance, or efficiency, Mitchell Electric has you covered. As a homeowner, you'll enjoy many benefits when you choose a landscape lighting installation from Mitchell Electric.
Some of these include:
Improved safety when you're walking around your property at night 

An emphasis on your home's unique or noteworthy features

The ability to provide outdoor entertainment for friends, family, or just yourself

A warm, inviting environment that welcomes your guests

An increase in the value of your property

Savings on utility bills when you install solar or low-voltage landscape lighting
To reap these benefits of outdoor landscape lighting and maximize your home's allure, you'll need the help of our industry professionals.
We aim to give every space a personalized look and feel according to your vision. That's our promise at Mitchell Electric.
Why You'll Love Our Landscape Lighting Solutions
Our carefully crafted modern outdoor lighting ideas add an extra layer of safety and visual appeal to your porch, patio, or garden. Remember, not all landscape lighting installations are created equally. You'll want to discuss your options with a dedicated landscape lighting company. You'll never have to search for reasons to love Mitchell Electric's outdoor landscape lighting, but here are some of the reasons we love it so much.
Entertainment
Those summer days in Sioux City, IA, seem to keep getting shorter. But the party doesn't have to stop when the lights go down. Add a subtle splash or a bold ray of light to your evening get-togethers with patio lighting or porch lighting. Your lights can also tell a story by giving an artful touch to your home that everyone will be talking about. Whether you're night swimming, grilling out, or relaxing with family and friends, your outdoor lighting will bring brightness and ambiance to any get-together. 
Security Lighting
A landscape lighting installation provides extra security that doubles as curb appeal for your home. You'll be able to see clearly from your vehicle to your door and notice anything out of the ordinary. You may even deter thieves from trespassing on your property. Outdoor lighting can also guide your guests straight to your porch or doorway. It's perfect for giving walkways and driveways extra illumination and definition, as well.
Energy Efficient Outdoor Lighting
New lighting installations have some incredible energy-saving features, including solar power and low-voltage landscape lighting. These harness energy from sunlight during the day and continue to power all of your nighttime activities.
Energy-efficient lighting can help make your home and yard look beautiful while saving you money and helping the planet, all at the same time!
Discover Your Lighting Style
You might be thinking you're ready for an upgrade to your garden lighting, but have you considered the design element? How do you envision your finished product? If you need some inspiration for your outdoor lighting ideas, we've got professionals to assist you in designing every facet of your project. Our experienced team can work with you to create a unique plan to upgrade your patio, pool, or porch with modern outdoor lighting that will transform your dreams into reality.
So if we've turned on a lightbulb in your head, let the professionals at Mitchell Electric help you realize your own amazing landscape lighting design! 
A Step Towards a Brighter Life
An outdoor lighting installation can be just what your home needs. It can inspire peaceful nights under the stars or exhilarating late-night gameplay. Let outdoor lighting spice up your life, and let Mitchell Electric help you along the way with unparalleled customer service and satisfaction.
For more information on our landscape lighting installation services or to schedule service with one of our electricians, contact us through our website or give us a call at (605) 232-5527. Our skilled electricians are standing by to assist you.