Electrician in Sloan, IA
When it comes to electrical services in Sloan, we offer a variety of services to keep your home's electrical system running properly. We offer many electrical installation services to upgrade your current system, and electrical repairs to correct any issues or increase efficiency. 
Electricity is not something you should neglect because it can be hazardous. Your electrical system should be inspected and serviced at least once a year, but if you see something wrong with your electrical components, you should call a professional sooner.
Contact us online or give us a call today at (605) 232-5527 for more information on our electrical services in Sloan or to schedule an appointment with one of our professional electricians.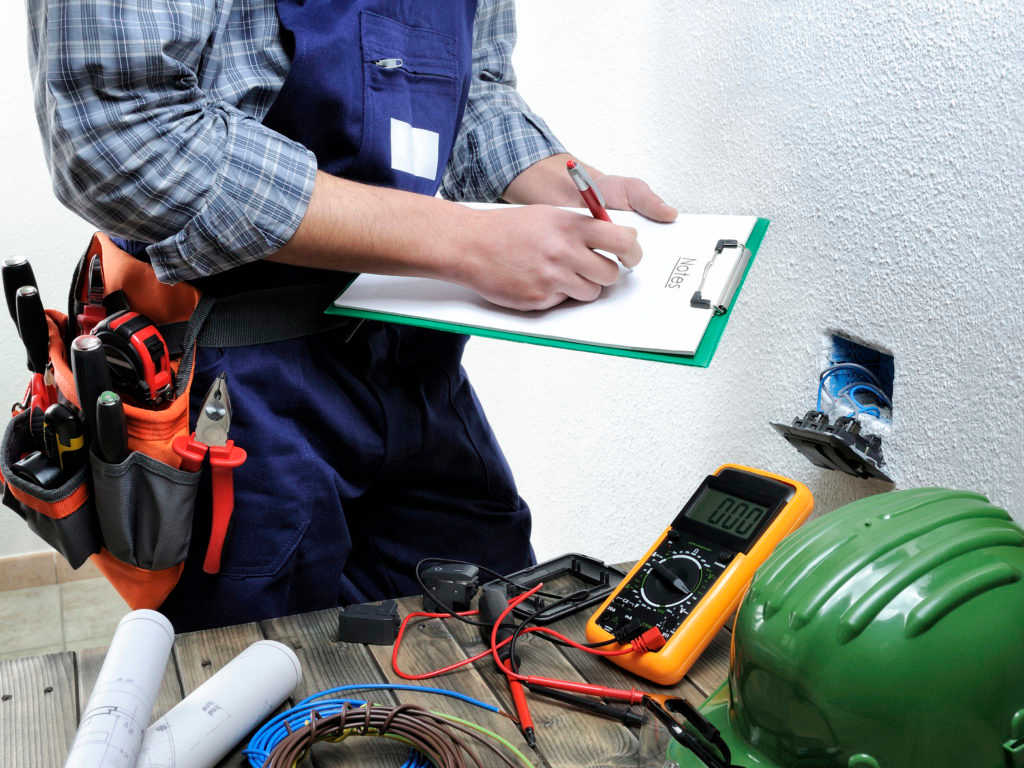 Our Trusted Electrical Services in Sloan
At Mitchell Electric, our skilled electricians offer the following electrical services in Sloan, IA and the surrounding areas:
Electrical Wiring and Rewiring
Faulty electrical wiring can lead to dangerous issues like electrocution and electrical fires. To avoid these problems, there are several warning signs to watch out for. You should call an electrician for electrical wiring and rewiring services if your outlets are hot to the touch or make strange sounds, appliances or lights frequently flicker on and off, or circuit breakers trip often.
Old houses and historic buildings also present electrical wiring issues. Buildings built in the past use either aluminum or knob and tube wiring. These materials can't keep up with today's energy needs and are a shock and fire hazard. Replacing outdated electrical wiring with a modern system, will increase the functionality and safety of your electrical system and home.
Outlet and Switch Installation
Electrical wiring isn't the only component affected when it comes to older homes. Homes built for past generations didn't have the technology needs of today. In turn, fewer outlets were installed to satisfy their energy consumption. This is often inadequate and sometimes even hazardous for modern families. Outlet and switch installation provides your home an upgrade. 
We offer GFCI, AFCI, 20A, and switched outlets to accommodate rooms that come into contact with water or have higher energy consumption needs. We also have outlet options you can control from your smartphone and styles that have USB ports already built in. 
Need to schedule an appointment with an electrician in Sloan? Give us a call today at (605) 232-5527.
Lighting Installation and Repair
Lighting has a big impact on your home. It can transform a room or highlight a section you want to show off. It can also create a more intimate backyard space for nighttime barbecues or gatherings and make your outdoor area safer from causing injuries in the dark. Outdoor lighting also secures your home, deterring animals and burglars from entering your property.
We offer various lighting installation and repair services including recessed lighting, pendant lighting, media room lighting, art lighting, floodlights, accent lighting, and motion-activated lighting. At Mitchell Electric, we have what you need for all of your home lighting needs.
EV Charger Installation  
Our skilled technicians can also help with your EV charger installation in Sloan and surrounding areas. EV chargers eliminate the inconvenience of finding a charging station by bringing the charger to your home. Our installations offer three levels: standard home charging in level one, accelerated charging in level two and commercial charging capabilities in level three.
If your electric vehicle isn't your everyday car, a level one charger would be sufficient. A level one charger takes about 20 hours to reach a full charge. On the other hand, if you are using your electrical vehicle to go to work and run daily chores, a level two accelerated charger offers quicker charging options. The accelerated charger only takes three hours to reach a full charge.
Call the Professional Electricians at Mitchell Electric Today
When you're looking for an electrician in Sloan, Mitchell Electric is the family-run company you should call. Our team is led by our head electrician and owner, Dave Mitchell, who has over 40 years of experience in the electrical field. Our employees are trained to exemplify friendly service, quality craftsmanship, and the proper thoroughness to perfect your residential electrical project. 
Whether it's electrical wiring and rewiring, outlet and switch installation, lighting installation and repair or EV charger installation in Sloan, our expert electricians have the knowledge to help. Our financing options also make electrical services a safe and affordable amenity for all.
For more information on our electrical services in Sloan, or to schedule an appointment with one of our skilled professionals, contact us online or give us a call today at (605) 232-5527.